Perez Hilton Insults Dying Michael Jackson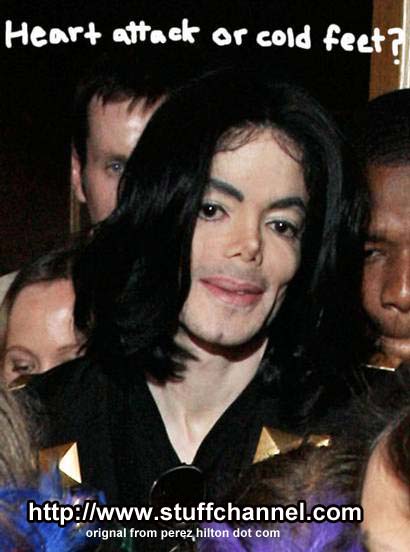 Quite simply, I am shocked and dismays. As many of us who grew up in the 70s and 80s, I didn't really like Michael Jackson's music (rock guy here) but still had respect for this work. We all watched as he went through his creepy, reclusive stage, and deep down we cheered as he announced his 50 concert event for the UK, scheduled for later this year.
Well, some people, like annoying gossip blogger Perez Hilton, could only seem to joke and jibe about it. In his typical fashion, he made crude comments. The Perez style includes writing rude comments on images, adding genitalia, and other childish things. Anyway, when the news broke of Michael Jackson's heart attack, this fool ran the picture above – "heart attack or cold feet".
How crude. Perez, I know why you got slugged the other night. You are a creep. I hope every one of your advertisers drops your site like a rock, and I hope that every intelligent celeb in the world no longer wants anything to do with your rude, crude blog. Go away, your time is up.
RIP Michael Jackson!