Perez Hilton Gets More than Black Eye Over Michael Jackson Attack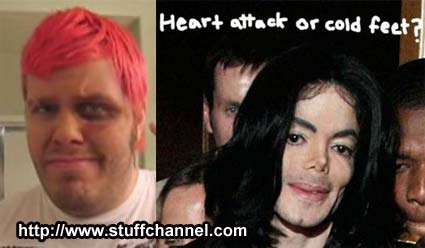 it hasn't been a very good week for Perez Hilton, the screen name for flamboyant "blogger" Mario Lavandeira. First off, he gets into a scuffle in Toronto with Members of the Black Eyed Peas, calls one of them a "f-ggot", and get whacked upside the head and gets a black eye as a result. Then on Thursday, as news broke that Michael Jackson had suffered a heart attack, this guy has the balls to post the picture above with "heart attack or cold feet" written on it, and the text:
Michael Jackson was taken by ambulance from his Holmby Hills home to a nearby Los Angeles hospital on Thursday afternoon!! Supposedly, the singer went into cardiac arrest and the paramedics had to administer CPR!!!
His mother is even on the way to visit him!!!…
We are dubious!!
Jacko pulled a similar stunt when he was getting ready for his big HBO special in '95 when he "collapsed" at rehearsal! He was dragging his heels on that just like his upcoming 50 date London residency at the 02 Arena, of which he already postponed the first few dates!!! Either he's lying or making himself sick, but we're curious to see if he's able to go on!!! Get your money back, ticket holders!!!!
The reaction has been swift. Perez's own blog is packed full of comments calling him out and really giving it to him. Online petitions have started. Fox news ran the story, which apparently Perez declined to comment on when reached for a comment. Considering this guy seems to have something to say about everything, well.
There is a pretty big move out there for people to boycott or stay away from his blog, the anger is running deep as the senselessness of his comments are sinking in.
RIP Michael Jackson!