Bernie Madoff in Court to Plead Guilty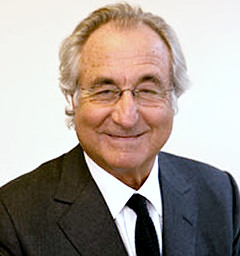 I haven't really written about this story before, but it's a doozy, that is for sure. Bernie Madoff ran a huge investment program that took in upwards to 50 million in investor money, but was paying returns only by using new investor money to pay off old investors, what is called a Ponzi scheme. A pretty good summary of how we got here can be read on the wikipedia Bernard Madoff page.
Anyway, this scammer is in court today to apparently plead guilty. It is likely he will spend the rest of his days in jail, which isn't so much of a burden considering how nice of a run he has had for the last 20 or 30 years. Some people have suggested that the guilty plea is in part to keep his sons and other family members from being more deeply investigated, and also to keep the feds from looking more closely at the ownerships of things like luxury homes and other financial placements. During this process, Madoff has been under house arrest in his 7 million dollar Manhatten penthouse. Doesn't sound like much punishment to me!