RIP: Tapout Co-founder Mask Dies in Car Crash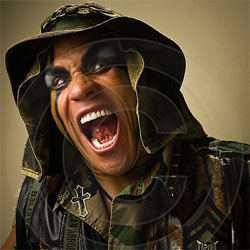 A bit of a shocker is the news that TapouT co-founder Mask (Charles Lewis Jr) died in a high speed car accident last night. His $300,000 Ferrari Modena was sectioned in half by a telephone pole which he hit at very high speed, apparently while street racing with a Porche. TapouT is the clothing and lifestyle company that has grown from three guys with a trunk full of t-shirts to a 100 million dollar plus business that has become a powerhouse. The three co-founders of TapouT were also featured on a TV reality show about MMA.
If the reports are true, it is another scary and meaningless death in the world of MMA that has seen way too many strange deaths in the last couple of years, including the murder / suicide of Justin Levens and his family, as well as the death of Evan Tanner in the desert. It has been a very odd time in MMA, that is for sure.