Sarah Palin Starts Her Presidential Campaign on TLC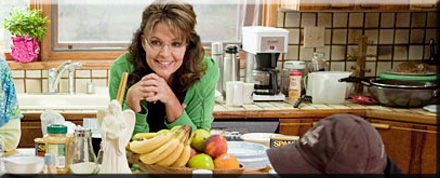 When I heard that TLC was picking up Sarah Palin's new reality show, I couldn't help but think the timing was perfect. Apparently I wasn't the only one, considering commentaries like this one on CNN that shows more than a few people picked up the vibe.
When it comes to playing in the grey areas of politics, Sarah Palin is a pro. The whole Tea Party movement (which appeared to fall flat on it's face in many areas during the midterm elections) was her baby, but she very carefully made sure she wasn't running it. Sure, she will turn up and give a speech, but she won't run anything. She stays away. The TV show? In her own words, "Now there you go again", Palin takes advantage of wide media coverage without having to commit to anything.
It isn't surprising coming out of TLC, who's roster of programs on the channel often reads like a conservative Christian manual, cheering on oversized families, putting people of Christian beliefs front and center on their network. TV shows such as the insane 19 Kids and Counting seems to celebrate old Monty Python "every sperm is sacred" song. What is truly stunning is that the people running TLC either didn't consider for a second that Palin is very likely using her show to springboard a campaign, or is at least using it to create a more favorable profile to the public, a very controlled image where they can edit out the bloopers, eliminate the ugly phrases, and show Sarah as the tough mom, hardened outdoors person, and just swell gal you want to spend your time with.
Shame on TLC for getting caught on this one. Shame on Sarah Palin too, for being one of the most incredible self-promoting political shills.