Oksana Grigorieva Interview Explains Why Larry King Must Go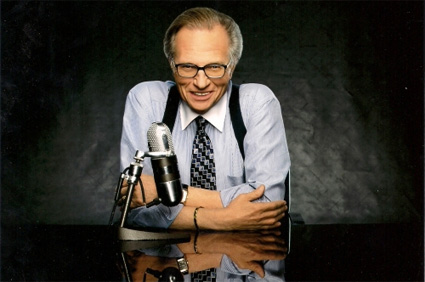 Larry King has been sinking into irrelevancy for many years now, and he finally agreed to retire from CNN earlier this year. But like a bad smell that just won't go away, Larry King is lingering on the airwaves until the end of the year, when Piers Morgan will take over, and take the 9PM hour in a new direction, thankfully.
This week, Larry stooped about as low as you can go to get attention to his show, a desperate move from a seemingly desperate host trying to get one more shot of that old adrenaline of being relevant. He interviewed Mel Gibson's baby momma Oksana Grigorieva. He didn't just interview her, he gave her an open mike and guided her to make some fairly incredibly statements and to make public accusations as to what Mel Gibson may or may not have done.
All this, of course, in violation of a judge's order not to discuss the case in public. Larry King and his people knew this, and they did the interview anyway.
The result? Mel Gibson will go to court personally on Monday to claim custody of his 1 year old daughter with Grigorieva, claiming that she isn't responsible, and isn't willing to follow a judges orders, be respectful, and do what is best for her daughter. He has a point, and is likely to score well with the judge.
Larry King? Well, his try for one more starring role instead may tip the balance, hurting his guest's legal challenges, and potentially costing her custody of her daughter.
Go away Larry. Stop hurting people, stop hurting CNN… just quit now and avoid any more embarrassment.