NASCAR Bit By Cheating Scandal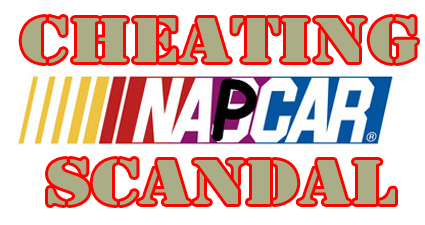 Sometimes you just can't get a break, that must be the feeling is NASCAR's world headquarters these days. After a season full of odd situations, start and park drivers, and various forms of cheating and rule bending, I think they were all hoping just to get into the chase and "celebrate" the year and get it over with. However, NASCAR's own plans and systems have come back to bite them in the ass in a major way.
The major issue is that of a spin by one Michael Waltrip racing driver late in the final pre-chase race in order to try to take a win away from Ryan Newman, and instead allow another MWR driver to stay in the chase. NASCAR racing is a team sport, but it's not suppose to be that much of a team sport. Funny enough, there really isn't anything specifically in the rule book against it (NASCAR has a nice general "actions detrimental to the sport" clause that they use for everything they don't like), and it took a couple of days for NASCAR to take action.
Now, beyond that, we also have a similar but less significant deal between last years series champion Brad Keselowski and another driver from a Ford team, apparently working out to let the champ by so that he might make the chase – he didn't make enough points to get in, but the intent may have been there.
Finally, there was another incident as a result of this caution flag – on the restart the car in second place crossed the start line well before the first place car on the restart, which is generally a major no-no. The driver involved, Carl Edwards, plays the country bumpkin "Cousin Carl" character to the max, with the aww shucks grin and a down home look, but he has been in this same sort of position before. Don't let the grin fool you, this guy is pushing the rules at every turn. NASCAR seemed to have missed the concept entirely, and Edwards went on to win the race rather than being black flagged for jumping the start.
How bad are things? Mr "Un-excitement" Jimmie Johnson has actually called for NASCAR to have a sort of lock down appeal system, which would red flag the race on certain types of rule infraction appeals. It's hard to imagine how such a system would work, but when the poster child for NASCAR is crying foul, you have to wonder.
In reality, the problem was created by NASCAR in the same ways they artificially created the Chase and have allowed single owners to own fleets of cars. The costs to run NASCAR race teams has gone through the roof, the amount of technology applied beyond understanding, and the size of teams has gotten out of hand. It gets more complicated when you realize than many of the teams "sell" cars and technology to other teams, making them defacto team mates in some manner. There is also the question of manufacture, sponsors, and the like. You can imagine the scorecard of favors and such that exists somewhere in the sky as a result. The "chase" for the championship created a focus for the TV network in the last 10 races that pretty much excludes every other driver from any major camera time at those events, which is incredibly valuable for sponsors. A driver who isn't in the chase is pretty much invisible for the rest of the season, except in passing or if they take out one of the "contenders". So getting one more Toyota team mate into the championship was enough for one car to spin, bring out a yellow, and pit out of sequence to promote a team mate into the chase.
This exposes some of the worst things about NASCAR, something that Darrell Waltrip has referred to as "co-opetition", cooperation and competition combined. What happened at MWR racing is really nothing more than one or two people deciding to put more on cooperation and less on competition. Is it bad? Yes. Is it cheating? Really, it is NOT cheating, it's just bad taste, and NASCAR's "actions detrimental to the sport" rule gets applied because it's not really illegal, it's just not what they want to see. But until NASCAR moves to address the bigger issues of competition cost, mega teams, and the mega dollars that seems to be required to run with the big dogs, then they will always have to face this problem.
I don't think NASCAR tracks can shed seats fast enough to keep up if this trend continues!