CBGBs runs out of time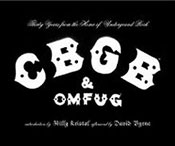 The club CBGBs, which was the launching point for bands such as The Ramones, Television, Talking Heads, Blondie, and many others has reached the end of it's time. The building that it is located in was bought a number of years ago, and the new owners don't want the club to be there anymore. After almost 33 years, the club will close October 31st and it's history will be written, which is truly, truly sad.
On the plus side, it seems that the owner of the club isheading west, and will open CBGBs in Las Vegas. Seems to me that it won't be the same, going from the gritty streets of New York's Bowry to the glitz of Las Vegas, but you never know, maybe lightning can strike twice.