Sheriff Sues Craiglists Over Hookers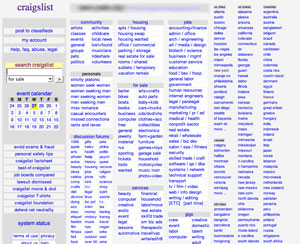 Okay, this story is just a little weird, but it almost tracks. It also digs down deep into the questions of liability and responsibility for online ad services such as Craigslist.
Cook County Sheriff Tom Dart has sued Craigslist in federal court, trying to get the Erotic Services section shut down, as well as to reclaim $100,000 that the department has had to spend in combating erotic escorts plying their trade through the online ad service. "Craigslist is the single largest source of prostitution in the nation," Dart said. With a quote like that, you know this guy means business.
Previously, the department had arrest 76 in one sting operation alone, and they continue to make arrests. Dart says they could make arrests all day and all night off the site, but that his concern is that it won't solve the problem. He added later, "I could make arrests off Craigslist 24 hours a day, but to what end?" By filing the suit, he said, "I'm trying to go up the ladder."