Is Fidel Castro Dead?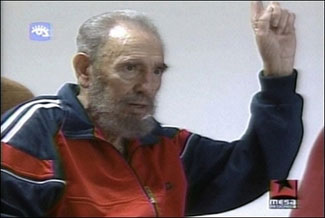 Now this has come up a couple of times in the last year, but this is one of those weird sort of web stories I love too much. Seems this weekend noted celeb blogger Perez Hilton was postin that Fidel Castro was dead. Apparently rumors around the Miami area has the leader passing away from complications from his year long battle with whatever he has battled.
The rumors have been denied by a couple of sources, but as always, there is no sign of Castro, no new video, no interviews, no nothing. Some people suggest that he may have died months ago, but that the remaining cuban leadership is so petrified of what might happen when the public finds out that they don't dare tell anyone.
Read the denials of that Fidel Castro has died here.
UPDATE: Of course, Fidel went on to live quite a bit longer than this, although he really declined in his last few years. He Died November 25, 2016 at the age of 90.