California is Burning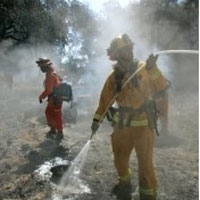 Insane number of wildfires have struck Northern and Central California, and according to Voice Of America, more than 400 seperate fires are burning. The loss of forest and natural spaces is a big deal, but so is the air quality. A state of Emergency has been declared, and people are told to stay indoors because the air quality is between 2 and 11 times worse than is healthy for humans.
From San Fran to the northern edges of California, the air is rank with the smell of smoke and fine particles of soot, the air worse that the supposed toxic air of Beijing, even.
More info here, and here.