Bourne scores big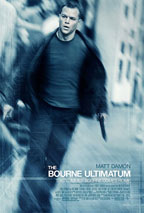 Matt Damon has proved that once again a good movie franchise can deliver the goods.  A 24 plus million dollar opening day makes this likely the highest grossing of the three movies in the series.   Almost 46% of the movie going public chose this movie on opening night, which is really huge.
I think that this is a good indication of generally what the American public likes to see.  Similar to TV shows like 24, this movie is all about action, intensity, and interesting stories that can be easily explained.  Although the line between good and bad is often blurred, the move delivers clearly with Bourne as the downtrodden hero.  People appear to relate and they are rewarding this sort of series with huge dollars and great attention.
The next Chris Rock / Jackie Chan movie should do really well!