Cheating Scandals: Tiger Woods Leads by Example?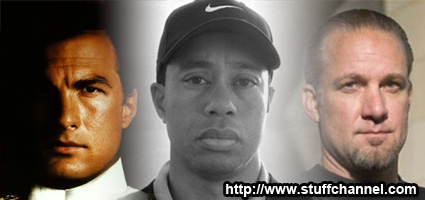 A recent rash of celebrity sex scandals has made me wonder how all of this has come about. Is there more cheating going on in Hollywood, or has scandal become so fashionable that nobody tries to avoid it anymore? Actually, I think the real answer is money and the 15 minutes of fame.
Tiger Woods' well publicized sex scandal has made instant stars out of any number of girls. Many of these girls appear to have either sold their stories for cash to the tabloids, or have used their Tiger connections to boost appearance fees or generate press. Anything connected to Tiger Woods is money, that is for sure, and being attached to him in such an infamous way is certainly not hurting these girls too much. In fact, more supposed players keep coming out of the woodwork, so it isn't like shame is driving them to hide, now is it? Tiger has done a well publicized stint in rehab, and his near triumphant return to golf has be closely watched – and well marketed by one of his few remaining sponsors, Nike.
Jesse James situation is even a little weirder, because he is married to Sandra Bullock, who many consider just too damn sexy to stay away from. Yet, Jesse has been connected to a collection of tattooed girls, odd Nazi references, and even weirder group sex stories that will have you shaking your head. When you look at those girls and Sandra Bullock, it is really weird to think anything would have happened at all. It seemed that pretty much every nut job with a tattoo was coming out claiming to have some sort of sexual relationship with the West Coast Choppers builder. Jesse has apparently also gone down the rehab road, and already fallout comes with the cancellation of his "Jesse James is a Dead Man" series, which had actually done pretty well on SpikeTV.
The latest scandal involves movie star, cop, and martial arts master Steven Seagal. This one is particularly weird, if only because the charges leveled by a former model are so out of character for him as to be a little hard to swallow. Kayden Nguyen alleges that she was hired to be a personal assistant, but upon starting the job she discovered it was more about being his personal sex toy. It's a bit of a head shaker for sure. The question now will be how many more girls will suddenly come out of the woodwork to claim their 15 minutes of undeserved fame?