AandE Folds Under Pressure and Brings Back Phil Robertson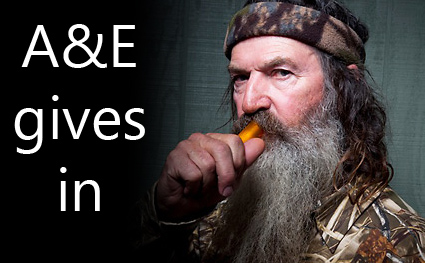 It's amazing what a whole bunch of public pressure can do to correct over zealous political correctness. It seems that A&E figured out which side of the bread their butter was on, and decided to "reinstate" banished Duck Dynasty patriarch Phil Robertson to the show.
Now, for those of you following along, you will know that the suspension was sort of meaningless and knee jerk reactionism at it's finest, considering that the show is not currently filming. Suspending Phil Robertson from Duck Dynasty and then running multiple marathons on air shows how screwed up A&E is over the whole subject. When they had a racial issue with Dog the Bounty Hunter, they not only suspended production, but also took the show off the air for a time. Since Duck Dynasty has been their best rated show ever, it seems they weren't willing to walk the walk this time, and only talked the talk.
A statement from A&E to The Hollywood Reporter read as follows:
As a global media content company, A+E Networks' core values are centered around creativity, inclusion and mutual respect. We believe it is a privilege for our brands to be invited into people's homes, and we operate with a strong sense of integrity and deep commitment to these principles.

That is why we reacted so quickly and strongly to a recent interview with Phil Robertson. While Phil's comments made in the interview reflect his personal views based on his own beliefs and his own personal journey, he and his family have publicly stated they regret the "coarse language" he used and the misinterpretation of his core beliefs based only on the article. He also made it clear he would "never incite or encourage hate." We at A+E Networks expressed our disappointment with his statements in the article and reiterate that they are not views we hold.

But Duck Dynasty is not a show about one man's views. It resonates with a large audience because it is a show about family … a family that America has come to love. As you might have seen in many episodes, they come together to reflect and pray for unity, tolerance and forgiveness. These are three values that we at A+E Networks also feel strongly about.
So after discussions with the Robertson family, as well as consulting with numerous advocacy groups, A&E has decided to resume filming Duck Dynasty later this spring with the entire Robertson family.

We will also use this moment to launch a national public service campaign (PSA) promoting unity, tolerance and acceptance among all people, a message that supports our core values as a company and the values found in Duck Dynasty. These PSAs will air across our entire portfolio.
Some bloggers and opinion sites are suggesting that A&E may have made peace with GLAAD and other groups by perhaps spreading a little holiday cheer (read cash) or perhaps offering to work on shows that are more "gay friendly" in the future. All kidding aside, it's clearly one of those issues of economics more than anything else, A&E could not afford to lose it's top rated show, and the rest of the cast of Duck Dynasty had made it very clear this week that without Phil, the rest of them were done.
So score one against political correctness, and perhaps GLAAD and other professionally offended groups can pick better battles, where they aren't trying to trample someone's first amendment rights because they don't like the comments.